History of the charcuterie
Translation of French text taken from the Encyclopédie de la Charcuterie by Alain Juillard & Jean-Claude Frentz, edited by Maé-Erti
The Indo-Germanic peoples were the first to try preserving meat. They stuffed animal stomachs and intestines with finely chopped meat, blood and fat.
Sausages are often mentioned in ancient literature - see Homer's Odyssey (approximately 700 B.C.), Aristophanes' poetry (425 B.C.) and Pherecrates' writings (420 B.C.).
One of the world's oldest literary documents, book Eighteen of the Odyssey, contains the following scene: two men are about to fight, and the referee says: "Here are goats' bellies, stuffed full of fat and blood, may the victor choose the best of these sausages, which we will cook".
The ancient Romans used to prepare meat such as pork in a variety of ways and preserved it by chopping it to a pulp and then mixing it with salt, spices and flavourings.
The word "sausage" derives from the Latin word "salsicius" and clearly refers to salted chopped meat, since the Latin adjective "salsus" means "salted".
The Italian word for sausage is "salsiccia", while the Spanish talk of "salchicha" and the Portuguese use "salsicha".
The origin of the word "saveloy" is more obscure; some texts referring to this product could indicate that, because of its shape, today's saveloy is related to a product which originally contained brains: "cerveletta", of Italian origin. The word "pudding" is thought to derive from the Celtic word "bodin" (stomach).
Over the centuries, the composition of the sausage, the iconic symbol of preserved meat products, has changed and become more sophisticated. In the Middle Ages it was praised both in cook books and in literary works. Several descriptions, Guild texts and recipes indicate that in the late fifteenth century and especially the early sixteenth century, consumers had access to an increasingly wide choice of cuts of meat, and that at the same time the composition of sausages was improving.
German producers of processed meat products became particularly skilled in the art of making sausages of every conceivable kind. They were very often pork-based, but old recipe books contain descriptions revealing that other materials were used to make processed meat products, cooked and served in caul.
Some of these were precursors of typical modern products which are proudly made by today's twenty-first century producers, including:
veal-based sausages;
calves' liver-based sausages;
sausages made from unsmoked bacon and eggs;
calves' caul-based sausages;
spinach sausages;
crab sausages and fresh mussel sausages;
capon sausages, etc.
None of these products contain pork, so they could serve as inspiration for modern halal products.
Strict controls were another guarantee of good quality in German preserved meat products, with the German butchery and meat processing guilds being subject to tighter regulations than their counterparts in other countries.
Private slaughterhouses were abolished in the eighteenth century and replaced by public abattoirs, which had to be built close to a river. Even at that time the buildings were subject to systematic inspections, a kind of forerunner of today's veterinary checks.
In France, the meat processing industry started to lose ground in the sixth century, with even the name of the industry falling into disuse. The term "butchery" was expanded to cover both fields of activity.
They had the right to slaughter pigs and sell raw pork, but not to prepare or sell cooked meat. This privilege was passed over to "oyers" (goose-roasters), who roasted geese and sold roast goose meat.
Towards the fourteenth century several disputes arose between butchers and goose-roasters regarding their rights. This disagreement about the source of raw materials lasted several centuries, but became even more complicated in 1350 when pastry cooks started to work in the meat processing field.
As a result of this somewhat chaotic situation, the corporations witnessed a plethora of new regulations and an equal number of problems.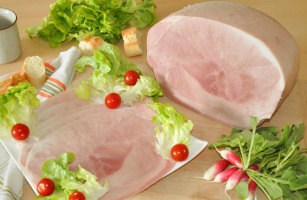 Butchers, goose-roasters and pastry cooks had carved up the right to practise the ancient craft of meat processing, but sadly they had not inherited the technical knowledge or skills. This disagreement between different professions eventually gave rise to the Communauté des charcutiers saulcisseurs (Association of Meat Preservers and Sausage Makers) in 1475. This move came about thanks to the view held by a number of roasters and pastry cooks that pork could be popular and that this could be a profitable business if the meat was properly processed.
Having reached this conclusion, they met, drew up articles of association, paid dues into the public coffers, had their articles of association approved and founded their new association.
From that time on the true, ancient tradition of meat preserving was restored. It found a link back to its rather turbulent past after an interval of ten centuries, and reappeared to continue its history and the practice of its art.
From the details given above, we can see that meat preservers worked under the auspices of butchers and that they constituted a division of the butchery profession, as did innkeepers, roasters and other purveyors of foodstuffs, including any kind of meat and even salted herrings.
The birth of the meat preservers' association did not completely free them from the control of butchers, as they were still obliged to buy pork from their stalls; furthermore, they were not allowed to sell their products on fast days or work from the 15th of September through to Lent.
It was not until half a century later, on 18th July 1513, that Louis the Twelfth released them from this servitude to the butchery trade.
Other key dates in the history of this profession include 1791, the year in which the old system of guilds and masterships was abolished, benefiting the meat preservers' corporation. The general association of French meat preservers was set up much later, in June 1881. It still exists today under a different name.